Automatic Exchange Betting by Colin Magee
Automatic Exchange Betting examines each stage of the betting process and provides comprehensive coverage and working examples showing how to program betting strategies using the Betfair API.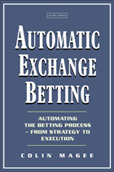 BUY THE EBOOK OR THE HARDBACK »
- Applicable to automated betting, trading and arbitrage on any sports betting market
- Set up your own platform for automated betting and trading on Betfair using an open source codebase
- Covers the betting process, suitable strategies, automation opportunities and much, much more!
- The book shows how automating betting strategies not only saves time, but introduces an entirely new paradigm for betting. Review more testimonials here.
Now available as an eBook for £24.95!
Automatic Exchange Betting is now available as an eBook!
Immediate download
Point and click navigation
Search and find key terms
Cut and paste code examples
The eBook is available to Betwise members. You may be asked to log in or register in order to purchase it.
Comments from readers
I write as a professional gambler specialising in football markets, and prior to reading the book, had never written a line of code in my life. Within two weeks, I had several automatic betting programs (bots) up-and-running, all pieced together from the sample code. I have subsequently automated a huge amount of my betting strategies, and have significantly increased my profits.
(also see the amazon.co.uk review)

Alexis J

I've just finished reading your book "Automatic Exchange Betting" and you've confirmed that the impossible is indeed possible.

Paul L.

Just returned from a week in Spain relaxing on the beach.... I took a copy of your book with me...and read it from cover to cover (twice!)...and I just wanted to write to you to congratulate you on a well written and comprehensive text.

Peter L

thank you for your help, for writing such a useful and informative book and providing the data to be able to do all this.

Dave J

Great book! Many examples, smart and easy language (even for none English native speaker), full description even for every little detail. Many new ideas and software solutions. I am completely satisfied with my purchase!

This is great job done.

Anatoliy

An excellent description of the entire process of placing automated bets, at a sufficiently high technical level to be useful in practice, while straightforward enough to be understood by people with only a modicum of programming knowledge. Patrick Gamble, reviewing Automatic Exchange Betting for Smartersig (http://www.smartersig.com)
the author also gives information about betting in general from an algo point of view, and if you have never heard about this, you can find a nice introduction and ideas.
(also see the amazon.co.uk review)

Martino

I would recommend this book to anyone who is interested in exploring the concept of gambling as an investment rather than a thrill generator.
(also see the amazon.co.uk review)

Simon J

If you want to explore the possibility of an automated approach this is definitely worth the money.
(also see the amazon.co.uk review)

David O