Start taking the guesswork out of betting on horseracing
At Betwise, we are dedicated to helping punters find a winning edge and to profit from it by using methods and strategies designed for modern betting markets which let the bettor take advantage of data driven analysis, whether through products, such as the programmable Smartform database, enabling you to do your own research and create your own models, or custom projects.
Betwise have helped both professional gamblers and enthusiasts alike with many aspects of using data to tackle modern betting markets, such as: custom research, data analysis, modelling, machine learning and system development, backtesting and automatic selection, market analysis, creating betting robots and more.
Get in touch with us with your requirements.
The Smartform Database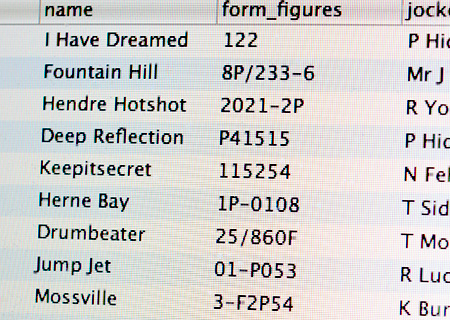 To explore, formulate, research, model, backtest and ultimately automate horseracing strategies we provide the Smartform Racing Database, a fully flexible, programmable racing database, with hundreds of useful curated variables, licensed from original sources, designed for use with MySQL and updated automatically each day.
The Smartform Racing Database gives you all you need to take your analysis of horseracing to the next level.
As a Betwise member you can gain access to advance oddsline predictions for all UK and Irish races on a daily basiis, horseracing analysis tools and racecard ratings, have unlimited access to Betwise QA, supporting materials from the book Automatic Exchange Betting, and the opportunity to subscribe to Betwise services such as the Smartform Racing Database.
Signing up is free, we don't spam our members and your details are kept private. So what are you waiting for?